Best After Hours Rates In Brisbane + Sign On Bonus
Yes that's right, our locksmiths keep 90% of the labour charges on after hours work, with our locksmiths earning up to $40,000 after hours per year and over $110,000 in total. We aim for four locksmiths on our after hours panel, so that equates to one week in four on after hours.
We offer a $5,000 sign on bonus – $1,000 when you start, $2,000 if you are still with us post the 6 month probation period and then another $2,000 if you are still with us at the two year mark.
About Toplock
Toplock is a local, family owned business that has been in operation in inner city  Brisbane for 40 years. We're based at Stafford, right behind the Stafford Tavern. We have a very wide range of commercial and residential customers being serviced by our workshop and on-road locksmiths, ensuring there is a wide variety of work.
Being a small team of less than ten employees, we operate and run like a big family. Who we hire and the way we operate affects everyone in the team, so the decisions are made by the team, rather than a single owner or manager.
Quality, professionalism and high levels of service are fundamental at Toplock, there are no "fly-by-nighters" here. We treat our customers with the utmost respect and that shows in our Google reviews (here).
Why Become A Toplocker?
There are plenty of reasons to want to be a team member, here are just some of them:
If you don't enjoy where you work, it makes for a very long day! We work together as a team to try and ensure everyone enjoys the place they work. We do believe in "I've got your back".
A great variety of work through a large base of both commercial and residential customers dealing in both mechanical and electronic systems.
Great base salary, even better after hours rates and a team bonus structure where if Toplock makes money, everyone makes additional money.
A social culture that is all part of enjoying work, yes our warehouse does revolve around a pool table, which sits conveniently between our workshop and office.
Bosses is not a word we use in Toplock, we just have people in differing roles and so we don't get hung up on organizational charts or job titles. Most decisions are made by the team.
What Our Toplockers Have To Say
Toplock prides ourselves on looking after our team members, hear what some of our long-termers have to say about why they like working at Toplock.
Travis Guy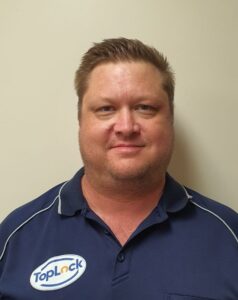 E: travisg@toplock.com;   M: 0403 002 391
Locksmith – Service Controller – Workshop Manager – Project Manager
(18 Years)
Toplock provide total respect to the Locksmiths with regards to considering fatigue management, with complete workshop and service support, and  transparency with company profits and bonuses associated with profits and revenue considered as a team effort.
There is always opportunity to upskill, be flexible in the company based on roles and responsibilities, with a complete understanding of family life, and work challenges which is what Toplock understands and respects.
Sean Simmons  
E: seans@toplock.com;   M: 0411 621 117
Locksmith
(10 Years)
Flexible working hours, the ability to make good coin on AH, the variety of work from commercial to domestic including travel from coast to coast and out to the dams, a good working environment where management understand the importance of a healthy work/life balance,  the pool table and a stocked beer fridge
Tom Stokes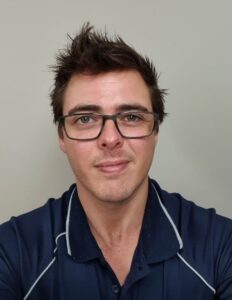 E: thomas@toplock.com;   M: 0408 627 834
Sales Officer – Service Controller – Workshop Manager – General Manager
(7 Years)
Having worked at TopLock for 7+ years, I have been given the opportunity to work with a heap of great people. Locksmithing is a very niche industry, so its rare to come across a team that feels like a family and you are valued as an individual not a number. The thing that really stands out to me is the social aspect of the company. We promote catching up socially and even have a pool table in our warehouse. Personally I have been fortunate to work in many different roles and responsibilities within the business. Toplock has always looked for a way to adjust to suit my career progression and respected my work life balance.
How Do I Apply?
There are no scary and informal interview processes here, the team decides whether we think you're a fit and we do that over a coffee, beer or wine, whatever your preference! The Toplock team meets fortnightly on a social basis to discuss whatever anyone wants to throw on the table for discussion, there is no fixed agenda. So why not come along to one and meet the team.